Celebrating Christmas in South Cook County: Here's Where to Go!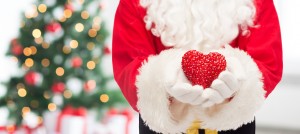 If you are looking for ways to get into the Christmas spirit, don't miss the great events going on in South Cook County this winter. With so many great things going on each week, it can be hard to pick just one. Reichelt Plumbing is happy to take the guesswork out of what to do and we have chosen the best places to go celebrate. So grab a mug of hot chocolate and head on down to these locations for Christmas fun.
Saturday, December 5, 2015 1:00 PM
Price: $5/per person
This South Cook County tradition features a 90-minute live show about the tale of gnomes. The story begins with the cast telling the tale of the "wee" folk's good works for man and nature, help them to outsmart Snotgurgle troll, and discover the true meaning of the holiday season. Hot cocoa and cookies are available for purchase.
Saturday, December 12, 2015 9:00 AM & 10:30
Price: $13-$15
Children 3 and under: $5
Have you ever wanted to eat breakfast with Saint Nick? Now is your chance! Roselle's very own Brunch Café will be serving up a breakfast of scrambled eggs, French toast, bacon, sausage, and potatoes along with a variety of different beverages. Don't forget to charge your camera to get some fantastic photos with Santa! There will also be crafts, games, and lots of giveaways! Hurry and register before spots fill up!
Sunday, December 20, 2015 5:30PM
Price: $41-56/per person
This classic holiday movie is performed on stage with a full-blown musical production. The music adaption has people dancing in the theatre and will no doubt put you in a holiday mood. Make sure to purchase your tickets online soon! This event is known to sell out quickly!
If you need plumbing assistance this Christmas, make sure to call Reichelt Plumbing. Call (219) 322-4906 to schedule one of our experienced licensed plumbers.