Affordable Storm Sewer Installation Services in Schererville & The Entire NW Indiana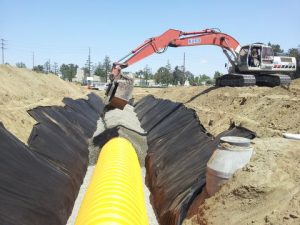 Reichelt Plumbing has been serving the Northwest Indiana and South Cook County, Illinois communities for over 25 years. In 1999, our plumbers added a new skill to their list of expertise: utility construction. Reichelt's fantastic plumbing technicians have since participated in many construction projects for residential and commercial properties. Our Indiana and Illinois plumbing contractors now have extensive experience with storm drains.
Call the Reichelt Plumbing team today at
(219) 322-4906
to schedule storm sewer service installation in Northwest Indiana & South Cook County In Illinois!
Storm Sewer Installation Cost
Several factors can affect the cost of your storm sewer installation. The installation cost will vary, first of all, depending on the specific features of your home. For instance, if you are part of an HOA (homeowners association), that group may cover this fee. You should also consider the distance to your connector line. The installation cost will increase along with this distance. Finally, installation costs will increase with any landscaping, trees, or existing sewer lines in the area.
Do you have more questions about your storm sewer installation? Don't hesitate to reach out to Reichelt Plumbing at (219) 322-4906! We're happy to help.
He was professional, explained everything very well and did an awesome job.





"I needed the sewer rodded in my front yard because it was backed up. Within an hour, Sam showed up. He was professional, explained everything very well and did an awesome job. We've had this problem in the past and Sam was basically cleaning up what they left behind (A huge ball of roots). This was the first time we weren't left with an uneasy feeling about whether the job was really done right or not. We will definitely be using them for future plumbing services."
Storm Sewer Advantages
Storm sewer systems offer many benefits. By capturing stormwater runoff, they prevent dangerous flooding. Similarly, sewers maintain the safety of the roads amid typical spring showers, by providing a place for rainwater to go. Storm sewers can also protect your home. By draining your yard and driveway, they keep your property free from excess water. Across the board, storm sewers prevent major (or minor) flood damage to both buildings and roads. This is one of their most critical functions.
Do you have further questions about the advantages of storm sewer systems? Don't hesitate to contact Reichelt Plumbing today!
Storm Sewer Maintenance
For your storm sewer to effectively prevent flooding, it needs to be properly maintained. You can care for your storm sewer system by cleaning out the debris that collects in the catch basin. Simply use a rake to clear away any leaves, tree branches, or other debris. Keep a close eye on your storm sewer before and after a storm, when fallen debris is likely to collect. Aim to clean the basin as soon as possible after a severe storm. That way, your storm sewer will be fully functional for any unexpected rainstorms.
If you have more questions about storm sewer maintenance, don't hesitate to call Reichelt Plumbing at (219) 322-4906!
Reichelt Plumbing offers:
Storm Lift Stations and Force Mains
Storm Manholes, Catch Basins, and Inlets
Grease Traps, Triple Basins, and Mud Basins
Storm Sewer Main and Laterals
And More