Affordable Sewer Line Video Camera Inspection Services in Schererville, IN
In business for nearly 30 years, Reichelt Plumbing is very proud of the service with which we continually provide our customers. We specialize in all aspects of residential and commercial plumbing, including sewer pipeline video inspection.
He was professional, explained everything very well and did an awesome job.





"I needed the sewer rodded in my front yard because it was backed up. Within an hour, Sam showed up. He was professional, explained everything very well and did an awesome job. We've had this problem in the past and Sam was basically cleaning up what they left behind (A huge ball of roots). This was the first time we weren't left with an uneasy feeling about whether the job was really done right or not. We will definitely be using them for future plumbing services."
In the past, the only way to find the source of a leak was to cut into walls or start digging. Even after doing this, there was no guarantee that the leak would even be found. This guesswork can now be avoided, saving you time, money, and a lot of hassle. With video inspection, we can also find any number of other plumbing issues that would be destructive or difficult to locate otherwise.
Expert Tips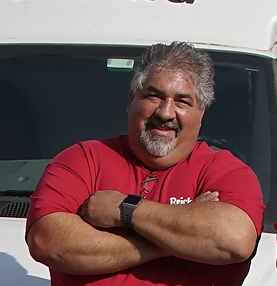 Want to ensure your property is in top shape? Consider opting for video inspection services! Just like a doctor uses a camera to diagnose internal issues, video inspection allows us to thoroughly examine your plumbing, drain and sewer lines. This non-invasive technique helps identify potential problems before they escalate, saving you time and money in the long run. Don't wait for a major issue to arise; schedule a video inspection today to maintain the health and longevity of your property in Northwest Indiana.
After the repair is complete, we can use this video inspection method a second time to double-check that all clogs and other issues are corrected before we leave your home or business. At Reichelt, we pride ourselves on getting the job done right the first time, every time.
Call the Reichelt Plumbing team today at
(219) 322-4906
to schedule sewer line camera inspection service in Northwest Indiana & South Cook County In Illinois!
Video Pipe Inspection Cost
The great thing about video pipe inspection is the cost compared to the old-school "dig and see" method. We can assess and diagnose plumbing problems without having to excavate your yard completely. Reichelt Plumbing has the latest and greatest tools when it comes to video pipe inspection. If you would like specific pricing information, contact our office at (219) 322-4906 and speak to one of our knowledgeable staff members. We are happy to walk you through what the process entails and what you can expect to pay when it is all said and done.
Additional Plumbing Services
Sewer pipeline video inspection has revolutionized the plumbing industry, allowing technicians to identify numerous problems that would otherwise go unnoticed. Here are a few examples of additional plumbing issues that an in-pipe video inspection may be able to help identify:
• Bellied pipes
• Clogged pipes
• Cracked/broken pipes
• Crushed pipes
• Leaking pipe joints
• Offset pipes
• Rust or corrosion
• Tree root infiltration
Benefits of Sewer Camera Inspection
Sewer Camera Inspection is the latest trend in troubleshooting sewer problems. Using advanced camera technology, Reichelt Plumbing is able to identify problems in sewage pipes without the need for messy and costly digging. Sewer Camera inspection can uncover clogs, broken pipes, leaks, rust, and tree root infiltration. Once we discover the source of the problem, our team is experienced in repairing and replacing as necessary. Sewer cameras are then used once more to ensure the effectiveness of the solution. You will be left with your sewer lines flowing as they should, without the stress of landscaping fixes!
Drain Line Camera Inspection
It isn't always easy to find the source of a clogged drain. Clogs can occur near and far in your drain lines, with the potential to wreak havoc on your entire home's plumbing systems. Drain line camera inspections are an efficient, mess-free way to troubleshoot problems in your drain lines, find clogs fast, and give the insight necessary to remove the source of the problem effectively. Our experienced technicians are skilled in drain line camera inspections for both residential and commercial purposes. Give us a call today to schedule your appointment for drain line inspection, repairs, and maintenance!
Sewer Camera Inspection Process
Experiencing a sewer problem can be stressful, especially if it is an emergency situation. Our sewer camera inspection process is faster than a typical "dig and see" method and causes less headache for the homeowner. When you schedule a sewer camera inspection with Reichelt Plumbing, our technicians arrive ready to tackle the problem. The process is quite simple for our skilled technicians: a high-resolution, waterproof camera is inserted in the sewer pipe, identifying problems such as leaks, roots, cracks, and buildup. Once the source of the problem is located, we eradicate the issue using various techniques. Once the problem has been fixed, we re-insert the camera into the sewer pipes to ensure the job has been fully completed.
Sewer Camera Inspections for New Home
Moving to a new home is an exciting time! But there are several things a new homeowner should do in order to live at your new address with peace of mind. One of these tasks is inspecting the sewage lines. Depending on the status of your home (a shiny new build or a place with "vintage" charm), starting with a clean slate in your sewage system is important. The team at Reichelt Plumbing performs new home sewer camera inspections so you can rest easy!
Commercial Sewer Camera Inspections
Commercial sewer problems are typically experienced on a larger scale than residential. Our technicians at Reichelt Plumbing have the experienced and advanced technologies necessary to troubleshoot, locate, and eradicate commercial sewer backups and damage. Our commercial sewer camera inspections utilize a waterproof, high-resolution camera to find buildups, cracks, and root infiltration quickly and without the mess and hassle of traditional digging. If you suspect an issue in your commercial sewage system, give our team of talented technicians a call!
Quality You Can Trust
Whether you are looking for plumbing services in your residence or place of business, Reichelt Plumbing is here to serve you. We come with decades of experience, and our team of highly qualified plumbers is licensed, bonded, and insured. Please do not risk something as important as the integrity of your plumbing with an inexperienced technician. When you need help with your pipes, allow Reichelt to answer the call with our sewer pipeline video inspection.