Top Rated Commercial & Residential Plumbers in Schererville, IN Serving South Cook County and Northwest Indiana
At Reichelt Plumbing we know how important it is to find a trustworthy plumber. That's why we're proud to be the best choice for plumbers in the region. Whether you are planning a large scale plumbing renovation or need help with a small household matter, we are the right company for the job. Our expertise ensures your confidence from the start and your satisfaction when the work is done right.
Sewer Cleaning and Replacement
Water Line Repair and Installations
Remodeling
Sump Pump
Drain Cleaning
Pump and Fixture Repair and Replacements
Water Heater Installation, Repair and Maintenance
Repiping & Pipe Repair
Frozen Line Re-Piping
Storm Sewer Repair and Installation
Technician Vince was great, he diagnosed the problem and had everything the next morning, even showed up early which is rare today
Reichelt arrived promptly to fix my broken sink. The technician was friendly and helpful.
I called Reichelt with some household plumbing questions. They responded with knowledgeable answers and were very polite.
I needed the sewer rodded in my front yard because it was backed up. Within an hour, Sam showed up. He was professional, explained everything very well and did an awesome job. We've had this problem in the past and Sam was basically cleaning up what they left behind (A huge ball of roots). This was the first time we weren't left with an uneasy feeling about whether the job was really done right or not. We will definitely be using them for future plumbing services.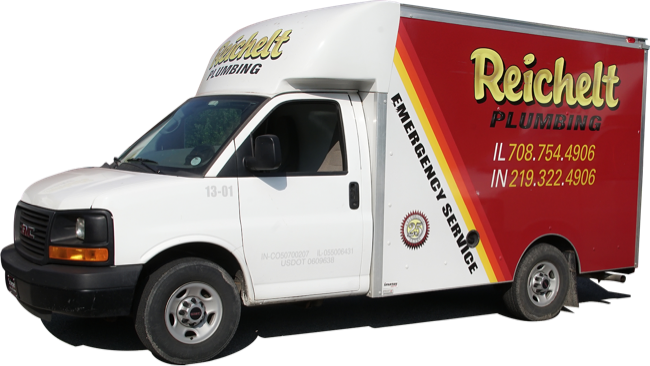 Why Choose
Reichelt Plumbing?
Top Rated Plumbing Professionals.
Searching for plumbing services can be difficult when you don't know which company to trust. Our customers know that they can depend on our skilled technicians to give an honest assessment and provide top-quality service. Our customers trust us because of our quality work and our friendly policies.
We guarantee it!
18 month guarantee — restrictions apply
Cleanliness Guarantee
Upfront Flat Rate Pricing
Fast Emergency Service Available
We can help you with a wide range of work. You can rely on our plumbers for household emergency call and renovation or installation needs. We also handle commercial projects and have extensive experience with commercial construction and site utility projects.
ZIP CODES WE SERVE
46322
46323
46307
46319
46373
46375
46311
46311
46373
46307
46308
46342
46410
46368
46403
46303
46319
46406
46321
46383
46385
46307
46342
46375
46410
46411
46320
46323
46324
46325
46327
46394
46304
46356
60409
60411
60417
46312
60425
60475
60430
60473
60476
60633
60412
60422
46401
46402
46404
46405
46407
46408
46409
60438
60423
60443
60466
60471
46295
46296
46298