Matteson IL Plumbing Repair from Reichelt Plumbing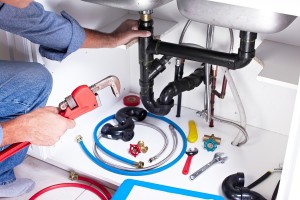 Reichelt Plumbing performs plumbing repair in Matteson, IL. We've been providing residential plumbing services for more than 25 years in South Cook County and Northwest Indiana. We have emergency service for all your emergency plumbing needs, and we provide free estimates.
Our specialty is residential plumbing. We can repair and install water heaters and water lines. We can unclog sewers, clean drains and detect and repair leaks. Our sewer repair is state of the art. We can repair sewer lines without digging up your entire front yard and leaving a mess of mud and dirt. We use the latest video inspection equipment to find the source of your sewer clogs and leaks. This means that we can accurately figure out where the problem is, and what's causing it. Once we know the location of the problem, we can dig directly above it, repair or replace the pipe and fill the hole. This means less mess and less reseeding and grass replacement in your yard.
Our professional, well-trained and highly skilled plumbers can handle all of your plumbing needs. We can even repair fire damage. We understand that a fire not only damages your home and personal possessions, it also damages your pipes and plumbing fixtures. Here at Reichelt Plumbing, we can repair and replace pipes and fixtures that have been damaged by fire.
We also pride ourselves on our clean operating procedures. Unlike other plumbing companies, we strive to leave your home cleaner than when we found it. Whether you call us for emergency services or a general plumbing need, we guarantee that we will fix the plumbing problem, ensure that the repair works as intended, and we'll clean up our mess and leave the area cleaner than when we found it. It's all part of our 100 percent satisfaction guarantee.
For more information on our plumbing repair, emergency service and sewer repair, contact Reichelt Plumbing at (219) 322-4906 for Indiana  for Illinois.
Published at April 30, 2020