Zoning Requirements in Illinois Commercial Plumbing Installation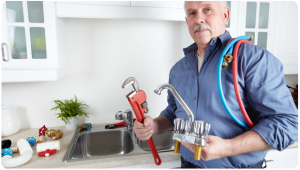 The entire purpose of the Illinois Building and Zoning Department is to ensure that everyone in the community remains safe, healthy and that their welfare is being looked out for by those in a position of local government power. Construction and renovation are major changes to the community, but they bring about new life and prosperity to those seeking to better themselves. Of course, as hard-working individuals, everyone must follow the zoning requirements and codes laid out by these government organizations – even when it comes to installing commercial plumbing within your very own business.
Zoning Requirements
As a rule, all commercial construction within Illinois must comply with the International Building Code and the International Property Maintenance Code. This means that any building larger than a single-family home must ensure they are legally in the right while building or adding onto their structure and maintain their property correctly.
When it comes to commercial plumbing, you need to receive a permit to alter the electrical, gas, and plumbing system of a building. This seems hectic to handle, but the process is relatively easy when you follow the rules.
Commercial Plumbing at Its Finest
If you are going through all that trouble of receiving a permit from the county, you may as well hire the most professional company you can to handle your plumbing needs. At Reichelt Plumbing, we understand exactly how important it is for your business to work with a trustworthy, professional plumbing company to meet your needs. That's why we worked tirelessly to become the best in the region – for customers like you!
Call Us!
If you are in need of commercial plumbing installation, call Reichelt Plumbing to schedule an appointment today. We can be reached at (219) 322-4906. We'd be happy to work with you!