Gas Line Leaks and Repairs 101 in Northwest IN & South Cook County, IL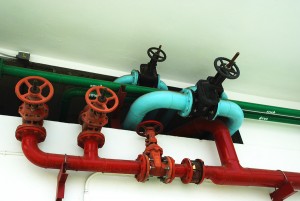 When people first started using gas in their commercial businesses and homes they could not tell when they had a leak because the gas was completely odorless. Thanks to new technology, the gas has a rotten-egg or sulfuric smell so that homeowners and business owners can tell if they have a gas leak. Naturally, if you recently threw eggs out and forgot to take out the trash, you may not have a gas leak. However, if you take out the trash and still have a lingering odor, you should have your property's gas lines inspected. A buildup of natural gas can cause illness or explosions if left unchecked for too long. So to help, here is some important information for our Northwest, IN and South Cook County, IL homeowners and business about gas line leaks and gas line repairs.
First and foremost, if you enter your home or business and smell something like sulfur or rotten-eggs, here are a few tips on what to do:
What to do if you smell the "rotten egg" odor in your home:
1. Avoid turning on light switches or electrical equipment. Also avoid using lighters, cigarettes, or any type of open flame until you are a safe distance away from the property.
2. When you are a safe distance from your property, use your cell phone to contact Reichelt Plumbing or 911.
3. If you know where the shut-off valve is located, please turn off the gas.
4. Wait for a licensed technician to arrive so that they can locate the leak. Do not attempt to locate the leak yourself because this can be extremely dangerous.
Our technicians regularly receive rigorous training and are provided with the best technology and tools to diagnose and repair any type of gas leak safely and efficiently. They can even perform a routine maintenance exam on your home to diagnose any potential problems and provide possible solutions to limit any future problems. No matter what happens, our licensed technicians are always available to resolve your plumbing problems. At Reichelt Plumbing, we offer both residential plumbing services and commercial plumbing services. Locally owned and operated, we have been in business for over 25 years, and owe our longevity and success as a business to our unwavering commitment to satisfy all our customer demands in a timely fashion. For money saving tips, coupons, and testimonials, visit us on the web. And feel free to contact one of our friendly representatives with any questions or service needs.
Serving Northwest Indiana & South Cook County Illinois
(219) 322-4906