Garbage Disposal DIY Cleaning Tips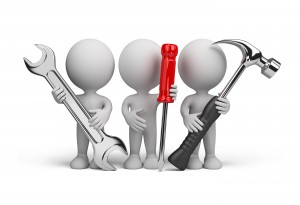 It's one of the unsung heroes and most-used devices in your kitchen – even warranting its own wall switch, but it's easy to forget that your garbage disposal also needs the kind of regular cleaning and maintenance you'd give any other appliance. Though nothing will take the place of a professional cleaning or repair, there are some DIY tips you can use at home to keep your garbage disposal working great and in tip-top shape.
Vinegar and Baking Soda
One of the most powerful methods for cleaning your garbage disposal is one you can do right at home with ingredients most of us already have on hand: vinegar and baking soda. Just like your old science fair project, the combination of these two ingredients will quickly foam up and expand, creating a natural cleaner that will help get the job done. Plus, the combination also has an added benefit: a deodorizing effect that eliminates any unpleasant odors.
When undertaking this DIY job, be sure to use about a cup of vinegar and a ⅓ of a cup of baking soda, depending on the size of your disposal. This kind of cleaning concoction isn't just an effective and proven cleaner, it can also make for a fun project for families to do together – a win-win!
Ice Cubes
A couple of ice cubes or chips down the disposal along with some running cold water, can go a long way in helping your garbage disposal function better. Some even suggest adding salt as an extra abrasive to remove blockages and clean up blades for improved disposing power.
For this simple DIY fix, put about a handful of ice cubes down the drain and run the disposal with some cold water flowing. It's good practice to do this several times a month for maximum impact.
If your DIY efforts don't quite work for you, you may need a professional plumber to help with your garbage disposal. Reichelt Plumbing specializes in helping customers of all kinds remedy their plumbing problems. Call (219) 322-4906 or visit our contact page now to get started.
Published at April 30, 2020
Category: DIY Tips